📘9 chapters 🛠 5 templates & frameworks ⏱ 1 hour 🧑‍💻 100% on-demand 🧠 Access to content for life
Course overview.


Are you looking for a powerhouse strategic framework for a customer advocacy program, but don't have the time for a lengthy and disruptive process? Look no further!
Our Customer Advocacy Framework Advanced Micro course delivers the solution you need. Conveniently online and self-paced, it fits seamlessly into your schedule. You'll be amazed by the speed and efficiency of fast learning – enroll today, start tomorrow, and transform your organization the very next day. Don't miss this opportunity to revolutionize your approach to customer advocacy!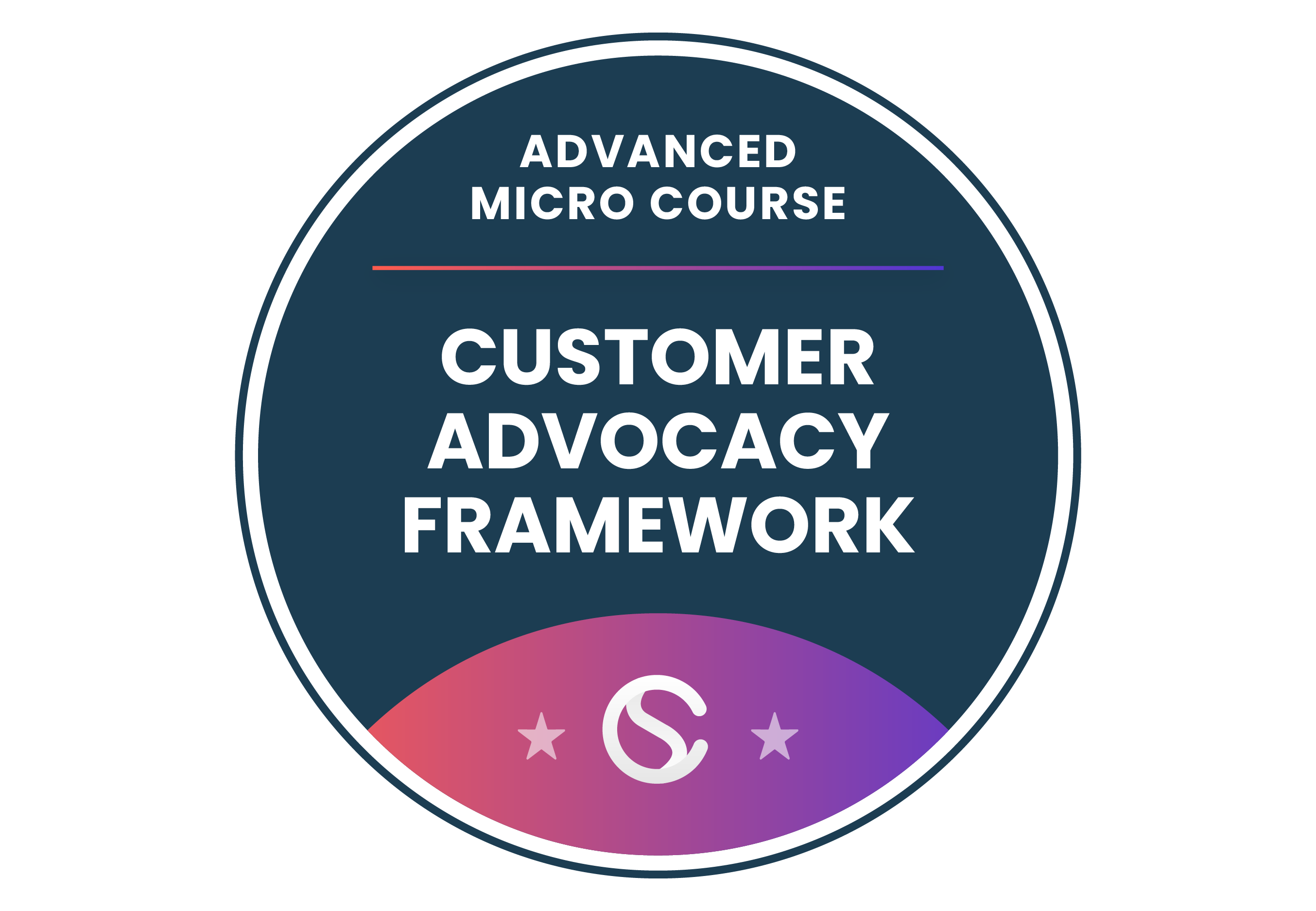 By taking this Advanced Micro course you'll be able to:


🧱 Build a successful strategic framework for your advocacy program.
✅ Complete short assignments that will help you identify best practices in cross-functional alignment.
📂 Access leading templates and frameworks to guide
your efforts.
📽️ View bonus footage from the CSC archives, providing additional insights and strategies.
🎖️ Learn from real-life case studies presented by a seasoned customer advocacy expert.

"Kevin Lau's done it again! Great certification program, short, direct, and packed full of great materials, tools, and samples. Perfect for the one-person shop, or professionals wanting to streamline programs for the best harmony within an organization. I recommend getting certified in Customer Advocacy Strategic Frameworks."

Barbara Thomas, Sr. Customer Advocacy Program Manager at Imprivata

Meet Kevin Lau.


Kevin Lau is Senior Director of Customer Advocacy & Experiential Marketing at F5, where he leads global customer engagement programs including customer marketing, customer communications and experiential marketing.
When we filmed the course Kevin was the Global Head of Customer Advocacy at Adobe where he's responsible for all aspects of driving customer engagement and advocacy across Adobe Experience Cloud.
He has received numerous awards and industry accolades including being featured in the TOP25 Customer Marketing & Advocacy Influencers (CMA), Advocate Marketer of the Year, Advocate Marketing Program of the Year, and Best in Class Customer Advocacy Programs to name a few.
Previously, Kevin worked for organizations including NetBase Quid, AOL, Google, and YouTube.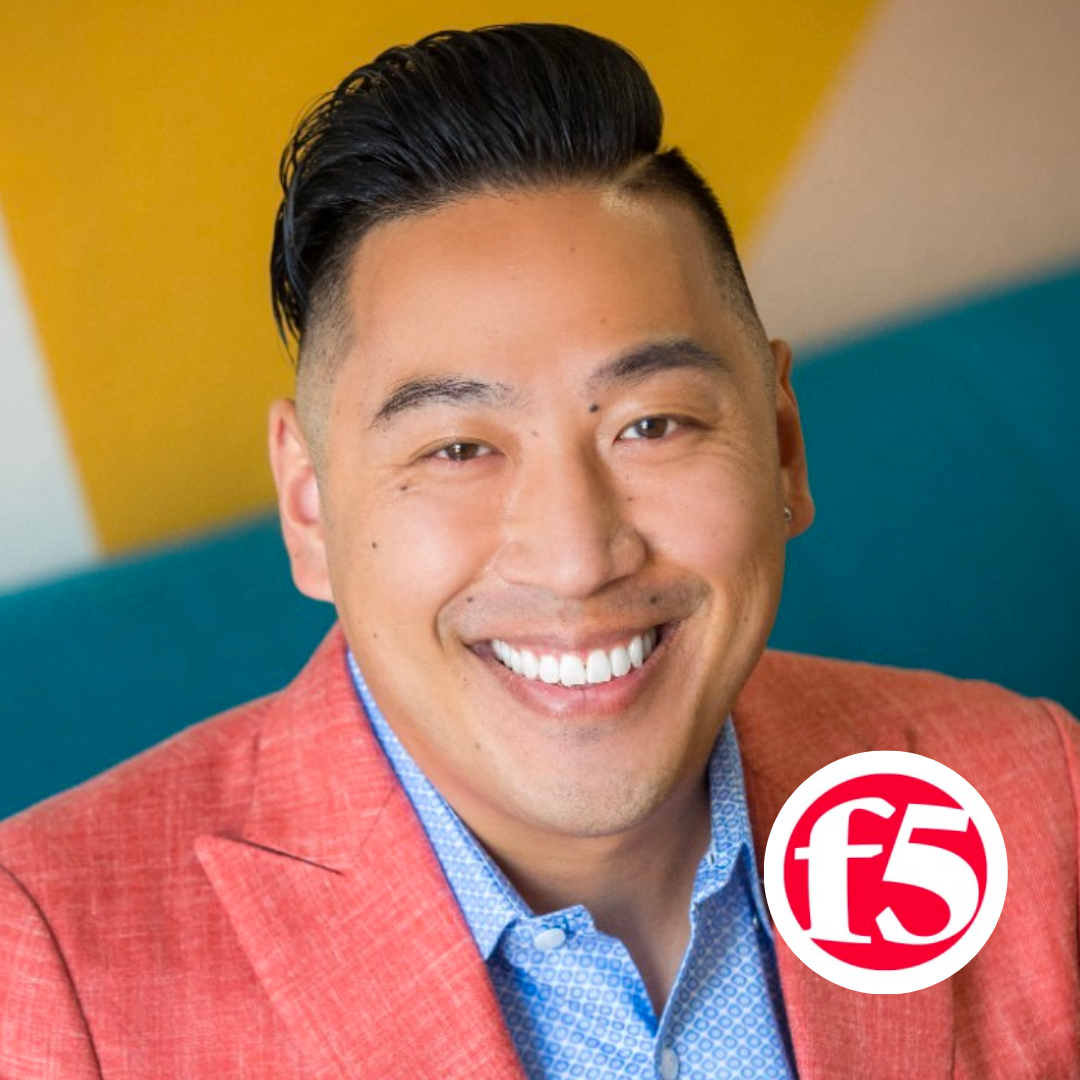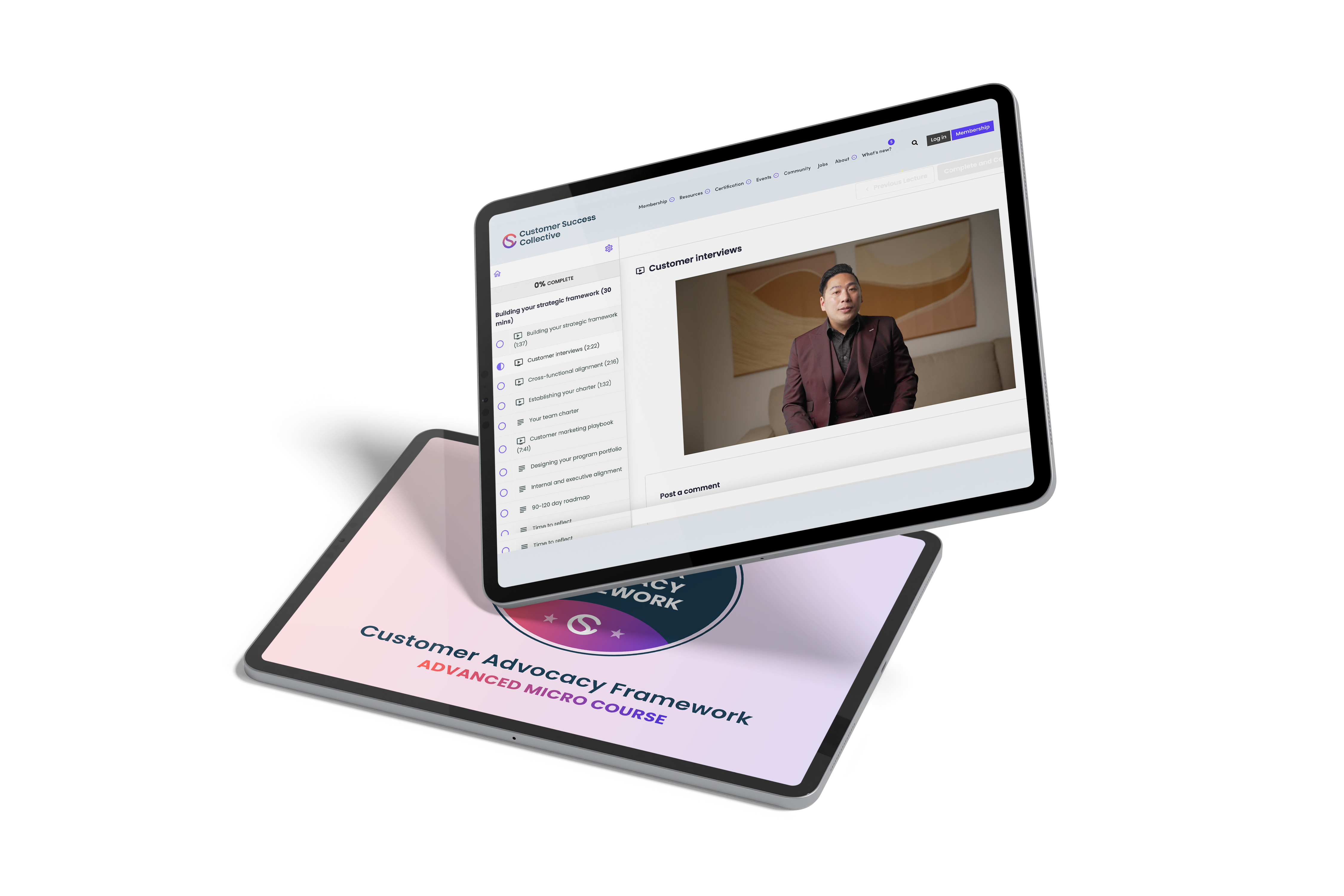 With this course, you'll discover how to:


✅ Recognize the value of customer interviews and how to organize them to collect insightful feedback.
📖 Provide a centralized team covenant to create a strategic framework for customer advocacy that promotes cross-functional alignment and establishes definite objectives.
📈 Make use of your strategic framework to scale up without any problems, all before launching your viable program.
🛣️ Drive impact in the first 90 - 120 days using
your new roadmap.

"Once again Kevin Lau shares his in-depth and massively helpful experience with the Customer Marketing & Advocacy community. The frameworks included will help you implement changes across several areas of your program. You need this course alone for the internal alignment section."

Mary Green, Customer Marketing Community Freelancer

Course curriculum

Available in days

days after you enroll

Welcome to the Strategic Framework Advanced Micro course
Available in days

days after you enroll

Building your Strategic Framework [60 mins]
Available in days

days after you enroll

Wrap-up
FAQs.
Q: Who's this Micro course for?
A: If you worked in customer facing roles like Customer Success, Support, or Customer Experience, you will LOVE this curriculum! This Micro course is for anyone who's ready to master the art of customer advocacy and develop their own strategic framework along the way. 
Q: How does the Micro course work?
A: The Micro course is 100% online and entirely self-paced. Once you enroll, you'll work through the chapters in chronological order and be invited to take part in activities. But don't worry, there are no tricky exams at the end.
Q: How long will the Micro course take to complete?
A: In total, the content, bonus footage, and activities will take approximately around 1 hour to complete.
Q: How long will I have access to the micro-course content?
A: For life! A single one-off payment gives you unlimited access to all the content.

Check out our other courses.

Add HTML and/or Liquid to build your own custom block. Any change made via custom HTML/Liquid cannot be ensured for full compatibility with current or future versions of Teachable.